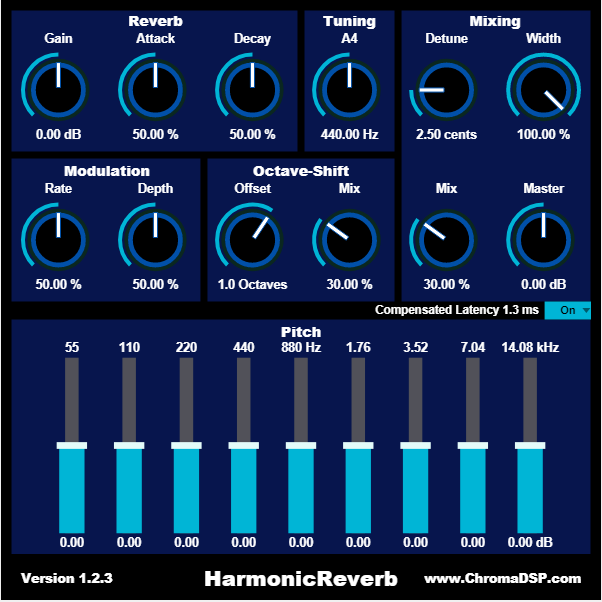 Description:
Dynamic Reverb that enhances the harmonic content of the signal.
Only the played notes of the signal are extracted and reverbated, not the noise in between.
The goal was not to emulate authentic room Reverb, but to create dynamic and unique sounds.
Useful to pronounce tone harmonics on (distored) Guitar/Bass tracks.
Supported sample rates: 44.1, 48, 88.2, 96, 176.4 and 192 kHz.
Limitations:
Since I'm doing this by myself, I can't test the plugin in all hosts and configurations. If you find bugs don't hesitate to contact me.
In general I'm happy about any kind of feedback, questions or suggestions.
contact(at)chromadsp.com
Soundsamples:
Dry Guitar Signal:
Mix 15%:
Mix 75%:
Download:
This software is provided free of charge but ChromaDSP retains copyright.
You are not allowed to redistribute this software without explicit permission from ChromaDSP.
You are not allowed to sell or to rent this software. You are not allowed to reverse engineer this software.
You are allowed to use this software for any educational and artistic application including commercial music production.
This software is provided 'as-is', without any express or implied warranty. In no event will ChromaDSP be held liable for any damages arising from the use of this software.
Fix bugs where certain audio block size and host configurations were not supported – this one was quite nasty as it could lead to gnarly noise
Latency minimization, optional latency compensation and display of it
Bugfix where the plugin just mutes the output when active – especially for Cubase with 64 bit float processing precision configuration
Requirements:
Windows x64
MacOs 10.11 – 10.14. The plugin is not notarized, therefore I can't assure it works for Catalina and above (10.15 – x).
iPlug2 was used to create this plugin. Thanks to all contributors of this awesome framework!