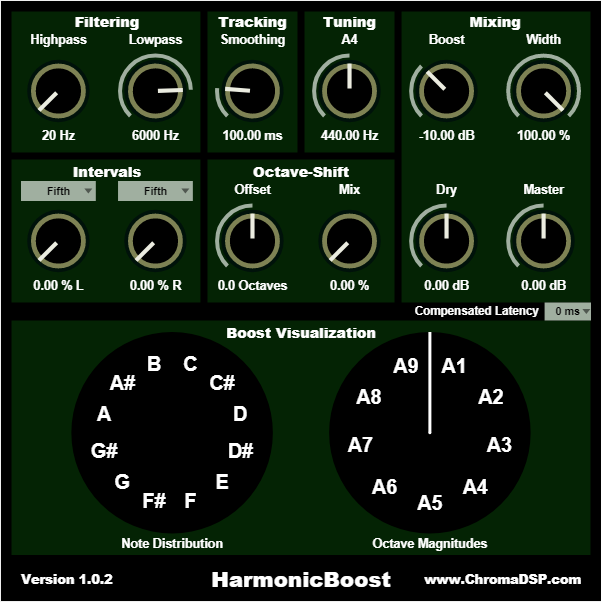 Description:
Polyphonic pitch tracking to boost the signal with harmonically matching content.
Real-time synthesis of octave and interval shifts.
Separate interval controls for left and right channel to enhance the stereo field.
Smoothing control regulates the compromise of tracking speed and accuracy.
Dropdown menu to compensate tracking latency and report it to the host.
Visualizations to illustrate the boost signal.
Supported sample rates: 44.1, 48, 88.2, 96, 176.4 and 192 kHz.
Limitations:
Since I'm doing this by myself, I can't test the plugin in all hosts and configurations. If you find bugs don't hesitate to contact me.
In general I'm happy about any kind of feedback, questions or suggestions.
contact(at)chromadsp.com
Download:
This software is provided free of charge but ChromaDSP retains copyright.
You are not allowed to redistribute this software without explicit permission from ChromaDSP.
You are not allowed to sell or to rent this software. You are not allowed to reverse engineer this software.
You are allowed to use this software for any educational and artistic application including commercial music production.
This software is provided 'as-is', without any express or implied warranty. In no event will ChromaDSP be held liable for any damages arising from the use of this software.
Release Notes Version 1.0.2:
Bugfix where the plugin just mutes the output when active – especially for Cubase with 64 bit float processing precision configuration
Requirements:
Windows x64
MacOs 10.11 – 10.14. The plugin is not notarized, therefore I can't assure it works for Catalina and above (10.15 – x).
iPlug2 was used to create this plugin. Thanks to all contributors of this awesome framework!